About

Radiodays Europe 2024
The meeting point for Radio, Audio, Podcast
Radiodays Europe Munich, 17 - 19 March 2024
Shaping the changing audio landscape
In a time of change, Radiodays Europe brings the industry together and lead the development as the most innovative and creative initiative in the radio and audio world
Radiodays Europe was born in 2010 as a response to the needs of the European industry, public and private, to come together to discuss the new media challenges, across borders. It has since grown to become the most important annual conference for radio professionals with over 1600 participants from 65 countries. It is the meeting point for the European radio, podcast & audio industries. It attracts both private and public radio stations, podcasters from across the spectrum big and small, plus audio professionals from a variety of industries. It is a destination event for professionals and companies from around the world.
RDE is organised as an annual conference in the spring of a different European city each year. This year the event will be in-person.
08.00 – Registration Opens for Radiodays Inclusive (formerly RDE Women) 
09.00 – Radiodays Inclusive Opens
12.00 – Registration Opens for Summits & Free Exhibition Opens for all 
12.30 – Podcast, Youth, AI Summits Open – Registration Required
16.30 – Summits End 
16.30 – Slow Networking Starts – Free 1 hour networking
18.30 – Evening Networking Event Starts
20.00 – Networking Closes 
08.30 – Registration & Exhibition Opens 
09.00 – Conference Starts 
13.00 – Lunch Break 
17.45 – Conference & Exhibition Ends 
18.00 – Venue Closes 
19.00 – Evening Event Doors Open
08.30 – Conference & Exhibition Opens 
09.00 – Conferences Opens 
12.45 – Lunch Break
16.00 – Conference Ends 
16.30 – Venue Closes
Host City Munich: Munich, Bavaria's capital, is home to centuries-old buildings and numerous museums. The city is known for its annual Oktoberfest celebration and its beer halls, including the famed Hofbräuhaus, founded in 1589. In the Altstadt (Old Town), central Marienplatz square contains landmarks such as Neo-Gothic Neues Rathaus (town hall), with a popular glockenspiel show that chimes and reenacts stories from the 16th century. 
The Venue: Messe München GmbH, Messegelände, 81823 München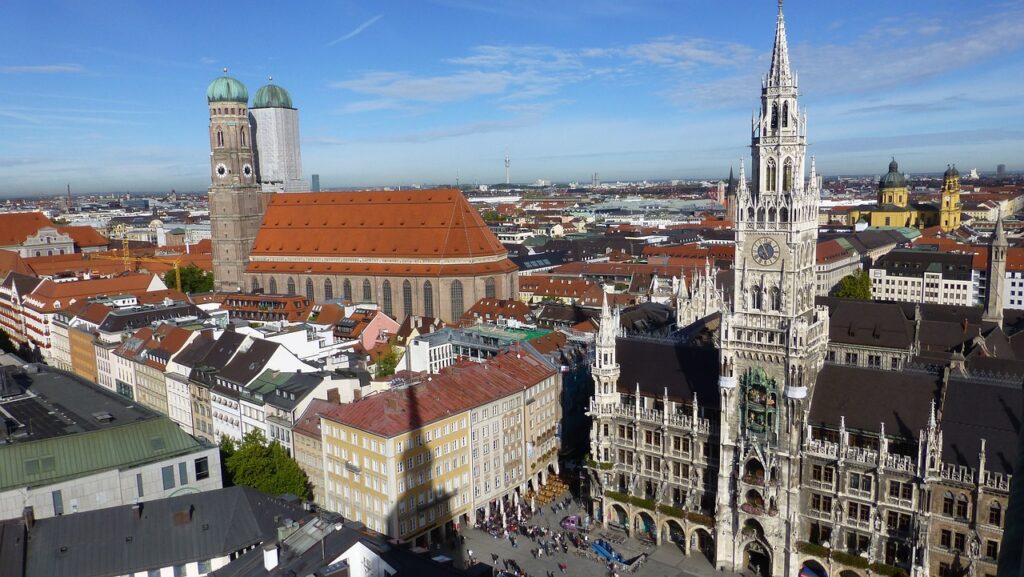 70 Sessions, 4 Track, 3 Days
The Meeting Point for the Worlds of Radio, Audio, Podcast
The purpose of Radiodays Europe (RDE) is to raise the awareness of radio, audio and podcast. In its 13th year the conference has become the leading radio, audio, podcast conference of its kind in the world. Before the pandemic the conference attracted over 1600 participants from 60 countries, post pandemic in Malmö 2022 attendees numbered 1200 in person & 700 online participants.
The audience is senior managers, content creators, technology specialists, production experts, on-air talent, talent managers and agents, podcast talent, podcast producers, platform providers, researchers, data specialists, jingles producers, some superstars and then some people who just make it all work flawlessly for their audiences everyday
Public and commercial broadcasters in equal numbers
In-house and Independent podcasters
Service and product providers to the radio, audio & podcast industries
Independent consultants and freelancers
Large technology providers and platforms, including the car industry and a variety of industries with a growing interest in radio, audio, podcast
RDE is a world-wide destination for radio, podcast and audio professionals, a not-to-be-missed reference point. Radiodays Europe also provides a platform for showcasing innovation and independent journalism. 
Radiodays Europe inspires innovation and collaboration within the radio and audio industry while encouraging programme development and good radio journalism. Don't miss it!
The Founding Partners
The first Radiodays Europe was held 2010 in Copenhagen. It grew out of the existing collaboration between the national Radiodays in Sweden, Norway and Denmark, where the model with joint private and public radio conferences already was in place. In 2012, Radiodays Europe moved to Barcelona 2012, Berlin 2013, Dublin 2014, Milan 2015, Paris 2016, Amsterdam 2017, Vienna 2018, Lausanne 2019, Lisbon 2021, Malmö 2022 and Prague 2023.