Firstly, Adam Bowie, Business Development Manager at BBC World Service, went on stage to take the audience through the biggest trends in podcasting, from new formats to new revenue opportunities.
It's important to note that podcast research is quite limited, because different sources provide different numbers. Even then, Apple Podcasts seems to be the leading platform in podcasting; however, most people in the world use Android phones (67.1%).
There are over two million podcasts, with 23.3% podcast series active (new episodes last 90 days). This is a number that, according to Bowie, is growing fast. "What it really boils down to isn't the number, but the discovery issue", he explains. It's getting harder and harder for small podcasts to get visibility among the large amount of content being created in the audio world.
This issue is aggravated with the emergence of celebrity podcasts. On the one hand, celebrities broaden the appeal of podcasts and "they are every other part of culture popular, so why not podcasts?", says Bowie. However, this type of content sucks up the oxygen when podcast discovery remains limited and takes valuable funding from the pockets. "Unless you don't find something different, an idea that has not been explored yet, it's difficult to produce money and be efficient. You need to find your niche", Business Development Manager adds.
Shits in advertising, like moves from backed-in to dynamic advertising, along with the growth in subscriptions services, exclusivity and the consolidation of the industry are other updates in podcasting.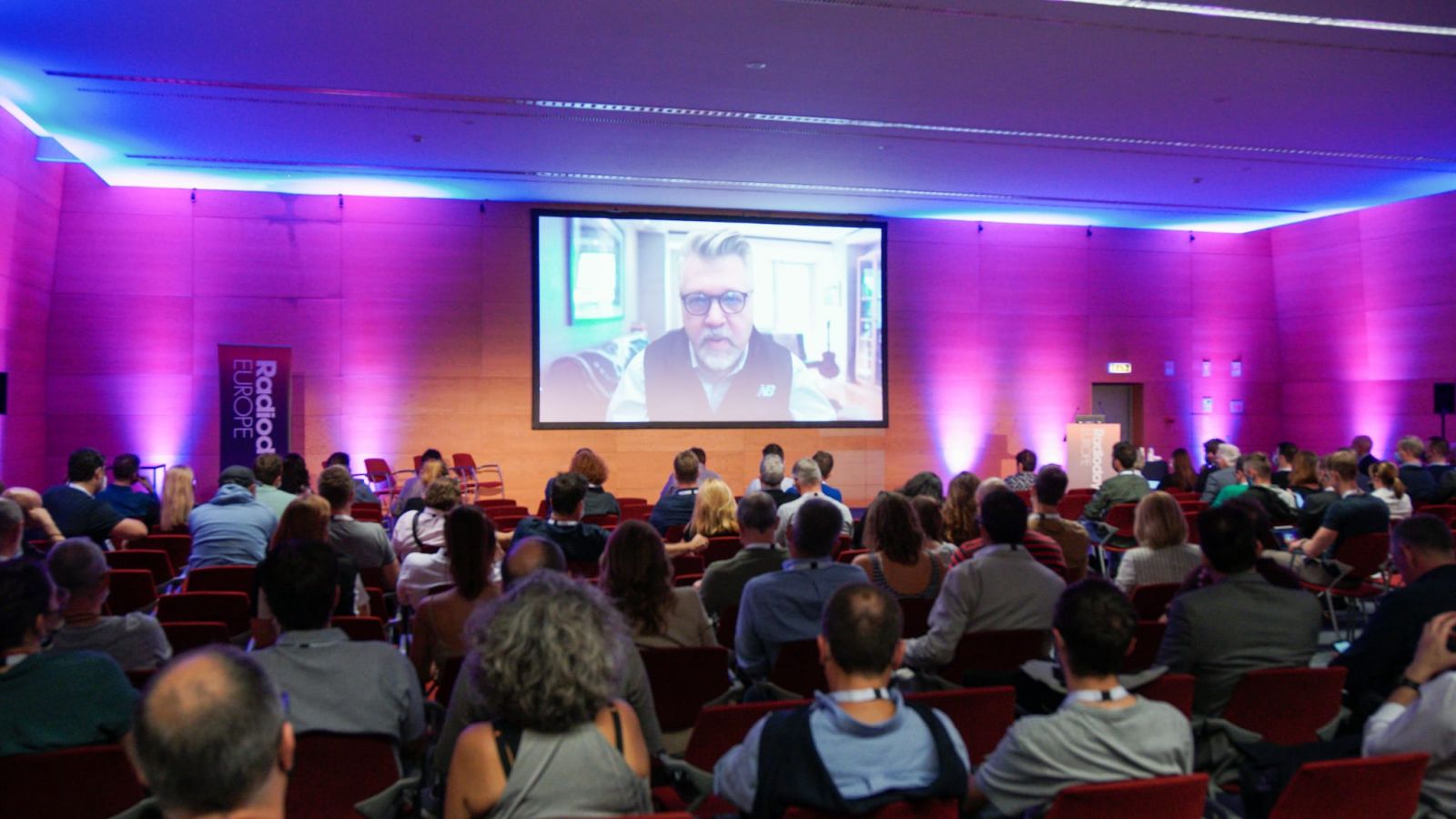 Tom Webster by zoom // Fábio Pires
Tom Webster, from Edison Research, made a virtual experience in the session where he shared data from "Share of Ear", a study about the impact of the pandemic on audio consumption in the United States.
"During the pandemic, audio habits were disrupted enormously", he starts. However, the American perspetive continues to be positive regarding the exponential growth of podcast consumption.
Webster showed the audience the time by which 50% of Americans 13+ have listened to any audio before, during and after Covid-19 disruptions. In 2019, they started listening to audio at 7:15; in 2020, this changed to 8:30; now, in 2021, it's at 7:45.
He also explained that 54% of US Latino monthly podcast listeners started listening to podcasts during the Covid-19; now, there was an increase in Spanish-speaking podcasts.
AM/FM Radio is the platform that is most used to listen to audio (75% in 2021).
The podcast consumption may have been impacted by the global pandemic; nonetheless, it still only occupies 6% of audio consumption in the United States.
Written by Francisco Sezinando and Rita Silva