Several well-known speakers are talking about their podcasting and their projects at the Radio Days Europe 2018. We took the chance and visited some of the sessions and spoke to some speakers about their thoughts on podcasting.
Kathy Tu and Tobin Low gave a talk about their podcast "Nancy" in which they broadcast frank conversations about the LGBTQ experience today. "Authentic storytelling in podcasts is important for reaching out to underrepresented communities and ethnic minorities", they say. Also their projects might help to bridge the representational gap in media.
In another session Alison Winter, head of audience at BBC, and Aled Haydn-Jones, head of program at BBC One, talked about digital strategies for radio. Two million people in the UK are listening to podcasts and at the same time do not listen to BBC speech content. "We can use podcasts to bump into these people in a non-linear digital environment and change their minds about radio", says Winter. Some of BBC´s non-broadcast podcasts are doing really good numbers and help to change perceptions about what you can get from BBC radio. "I think podcasts are an area we can´t afford to miss. It may never become a big, big mainstream property but its relatively important for a key group of listeners", says Winter.Ben Hammersley talked about the future of audio. "Radio is dead but don´t worry, audio is enough. We are in the golden age of audio", he told the Radio Days audience. In his session he brought up the topic of discovering new podcasts. This is still complicated for users because many podcatcher platforms exist and it may be that the podcast you are looking for is only published on one special platform. "If you can find a solution for that, you will be rich", Hammersley said in his session.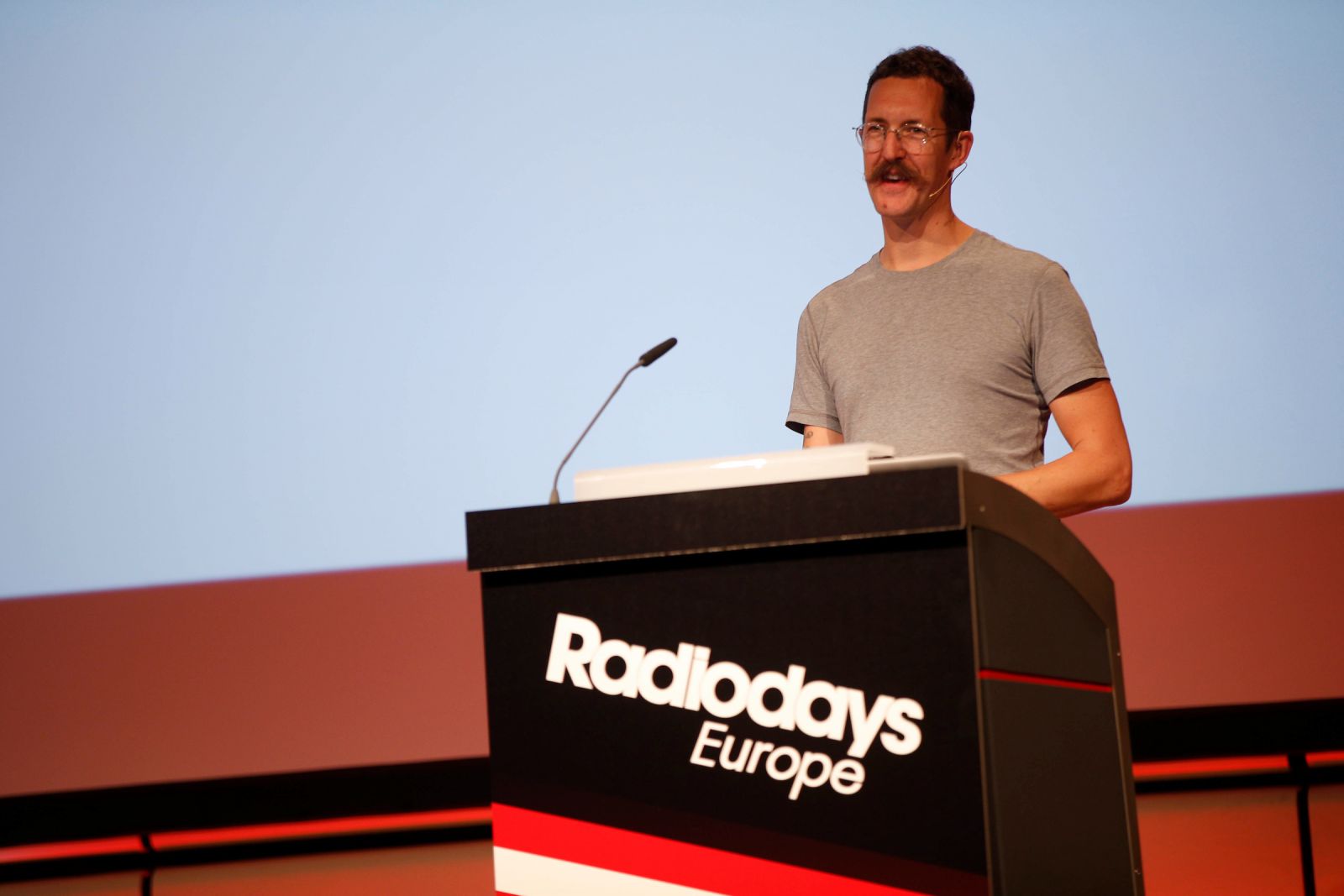 Podcast audiences are way more engaged
Former radio presenter Geoff Lloyd and the former leader of the british labour party, Ed Miliband talked about their podcast "Reasons to be cheerful". They started it in 2017 after Miliband had resigned as leader of Labour Party and Geoff Lloyd took a break from his radio show. "I wanted to go on promoting ideas", said Miliband. Geoff Lloyd explained the difference between radio and podcasting in his perception. "The podcast audience is such an engaged audience, they have come to listen to you. When you are on a radio show its always a balancing act between people who enjoy your show and those who have it on their background noise."
On Tuesday Penelope Thomas and Kerinne Jenkins form Australia presented an innovation called cinematic radio or binaural recording. "(After trying it out) people say: I just heard a film. The sound is filmic, immersive and activates your imagination", says project manager Thomas. Filmmaker Jenkins wrote and directed one of the first binaural podcasts called 'Precipice'. "You could definitely use it for documentaries and tell very touching stories", she says about binaural recording.
Alongside the practicioners the panels featured observers too. Tom Webster, vice president of Edison Research, gave podcasters a reason to be optimistic: Podcasting is growing. 1.7 % of all audio content consumed are podcasts. This may sound like a small number but: "If it's listed in this statistics it's not a small number", said Webster.
"Podcasting is clearly growing and I think we will see much more investment in podcasting from advertisers", agreed James Cridland, radio futurologist and editor of the podcast newsletter podnews.net. Now revenue is still far away from what you can earn in commercial radio.
Three producers of sports podcasts talked about their experience. Asked if they would go into broadcast radio with their show Cheeka Eyers from Formula One podcast "For F1´s sake" says: "As we are not doing sports facts but more opinion and fun I think that it wouldn´t fit for broadcast radio. I think podcasting will stay a very individual thing."