Stuart Hardy is Faculty Director Executive Education at Berlin School of Creative Leadership. He and his colleague Jamshid Alamuti, the MD of the Berlin School, will lead a new special offer at Radiodays Europe 2016.
This year Radiodays Europe is offering attendees who sign up for the Premium Gold Package the chance to join the Radiodays Europe Creative Leadership Programme in cooperation with the Berlin School of Creative Leadership. The Berlin School are bringing its expertise to Radiodays Europe 2016 to run a programme which deals with all areas of creative leadership related to radio, including advertising, content creation, programming, strategy etc etc
The mission of the Berlin School of Creative Leadership is one of the world's premier institutes for quality executive education and advanced leadership programs for the creative industries, including a part-time global Executive MBA in Creative Leadership. By bringing together top creatives and international leadership experts, the Berlin School paves the way for new standards in communication and leadership.
Stuart Hardy, Faculty Director Executive Education at the Berlin School, will run these sessions. Stuart describes himself as a 'Human Engineer', and is a sought-after mentor to top industry executives. Stuart's activities have appeared on BBC, ITV and German Television and his articles in European business magazines.
We had the opportunity to interview Stuart about what he thinks will be the highlights of the Creative Leadership Programme and of Radiodays Europe 2016.
– What can delegates expect if they sign up for the Creative Leadership Programme?
– This intensive four-day program provides participants with 'hands on' creative leadership tools and approaches – allowing them to address pressing day-to-day as well as strategic leadership challenges that they are facing in their organisations. This is not a time out for reflection, it is a chance to learn practical approaches that can be applied from day one that will make an immediate difference in business and personal performance – if that's your thing then this programme is for you!
– Who is this programme aimed at?
– This programme is aimed at the movers and shapers, the navigators within radio who wish to do things differently independently of role or hierarchy.
– What will you yourself bring to this programme?
– I have a rich and colourful background, from the world of adventure and Hollywood films, to consulting on some of the worlds great change programs around the world over the last 20 years. Now in my role as Director of Executive Education at the Berlin School I have been crystalizing that experience into specific 'creative' leadership techniques that resonate most effectively with the creative industries.
– How is the programme set up?
– The program consists of two parts – in the first part we explore the specific aspects of creative leadership that are required to deal with the challenges in the current radio environment, plus the relevant tools and techniques we can use to be most effective. In the second part we have a unique opportunity in private session with key radio days speakers to put some of the insights gained to the test with people of influence, passion and extensive experience.
– We have just heard, the MD of Berlin School Jamshid Alamuti, will also be running the programme alongside you at RDE 2016, tell us a bit about him?
– Jamshid is a friend and colleague I have worked with for some 15 years all over the world – a fellow creative, he is a uniquely talented individual in the field of leadership and emotional intelligence. The advantage with having Jamshid present is it guarantees a level of provocation and insight seldom found in seminars. He is uncompromising in his approach, and hugely passionate and experienced.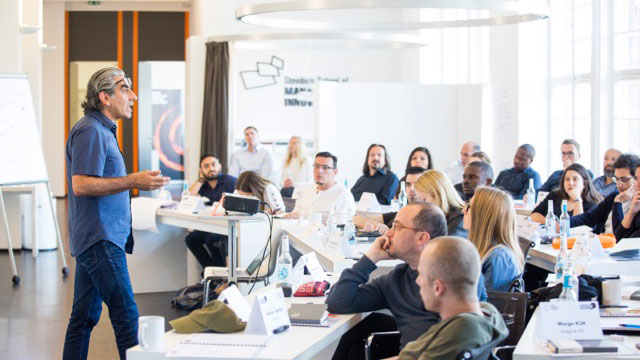 – Radio is seeing it's budgets decrease, with increasing competition from other media, how can leaders get creative to fight back?
– Creativity and innovation is at the heart of managing complexity and disruption. We want more for less from our people – so 'more of the same' ..faster –cheaper, is simply not an option. We are working with a cross section of creative organisations that are being challenged to re-invent themselves, their cultures and their business models in order to satisfy a range of stakeholders new and old – mainly as a consequence of technology. This is a systemic exercise that cannot be fuelled by the leadership methodologies of the past. It is a creative mind-set that orchestrates new choices, and then liberates new working environments to make those choices become reality. Authenticity, adaptability, agility are now points of parity not differentiators – it is the time of revolution in radio leadership!
– Leaders come in all shapes and sizes what are the 3 things they have to focus on in today's radio market or in any market as radio branches out?
o Understand what people want as well as what you want to give them, and the balance between the two.
o People change, organisations don't – speed and talent are key!
o Innovate for success….creativity without innovation is wasted.
– How do you teach creativity?
– Creativity is a suite of skills and approaches that can be learnt, backed up by mind-sets and emotions. By encouraging people to step out of their normal patterns and critically examine potential new ones, we can increase the repertoire of leaders in a way that allows for more creative choices to be made.
– What is your favourite radio programme and why?
– Unfortunately I am showing my age here – but if I reflect on radio that has impacted me most in my life it was the early pirate radio stations in the UK. Late nights hiding away after bedtime listening to illicit sounds and commentaries from 'rebels with a cause'. I think it was what it represented, as much as the new content that appealed so much – they were innovators who understood their new market perfectly and were prepared to take a risk…we can learn much from them now!
– If you could present a radio programme what type of programme would you present?
– I would love to present a radio programme on innovation that gathered together people from all walks of life, from a Maasai tribesman to a Silicon Valley entrepreneur for a conversation – to better understand what is constant in the human behaviour driving innovation, that is independent of history, culture, wealth, poverty etc..
– What are you looking forward to at Radiodays 2016?
– Creating a new, lasting network of navigators in the industry, who are confident and better equipped to make new leadership choices – and have a lot of fun on the way!
Read the specification of the Radiodays Europe Creative Leadership Programme. To register for a Premium Gold Package – which includes the conference, the video streaming on demand and the leadership programme – please click here.