There are a number of initiatives for women led by broadcasters all across Europe. An initiative out of the UK is Sound Women. This organisation was established in 2011 with the objective to help women across the United Kingdom get more out of working and radio, and helping the radio industry get more out of the talents of women.
Active between 2011 and 2016, the organisation was run by volunteers, who spent a total 12,040 hours focused entirely on social media, podcast, mentoring, research, building regional groups and hosting events to spread the message of gender equality in the industry. Some highlights include the commissioning of research to explore the influence of women in the radio and audio industry, building confidence and opening doors with six mentoring schemes supported by 115 women, and building a social presence with over 8000 twitter followers.
Sound Women closed its doors in 2016, but its legacy has stayed well and truly alive. In an effort to keep the momentum of the organisation going, a Facebook group was created to continue the networking and opportunities fed through Sound Women alive and accessible to members. This group, Sound Women Network, is run entirely by volunteers. Ann Charles, one of the admins who facilitates this group shared some of the achievements of the group since its conception.
Some of these achievements include:
1. Regular 'Tech Tuesdays': These are videos or Facebook lives where a bite-sized training on technology is run. Topics have included how to improve skills in Adobe Audition, running through the basics of the transmission chain, and demonstrating how different microphone pickup patterns work.
2. Supporting microbusinesses focused on training and upskilling: With members showing a desire for sound desk and editing training, Ann Charles and Kate Cocker formed a company that offers training for these skills, which has been offered to members at a discount as well as the public.
3. Job posts and announcements: Members can post job announcements for their companies, while companies who are also keen to have women apply for certain roles, can share these posts within the group. While it does not replace the formal application process, it gives women the confidence to apply.
4. General support: The group is a community aimed at helping other members in the industry. Topics from pay issues, bullying at work, going freelance and celebrating award nominations are all covered.
Sound Women is an example of an organisation that was focused on gender equality and providing opportunity for women in the industry. Despite no longer being active, the legacy of the organisation is still alive, encouraging women to network and work as a collective for more opportunity.
Book your ticket for Radiodays Europe here today
To book tickets to Radiodays Europe Women session only, please contact Rosie@radiodayseurope.com for the code to purchase.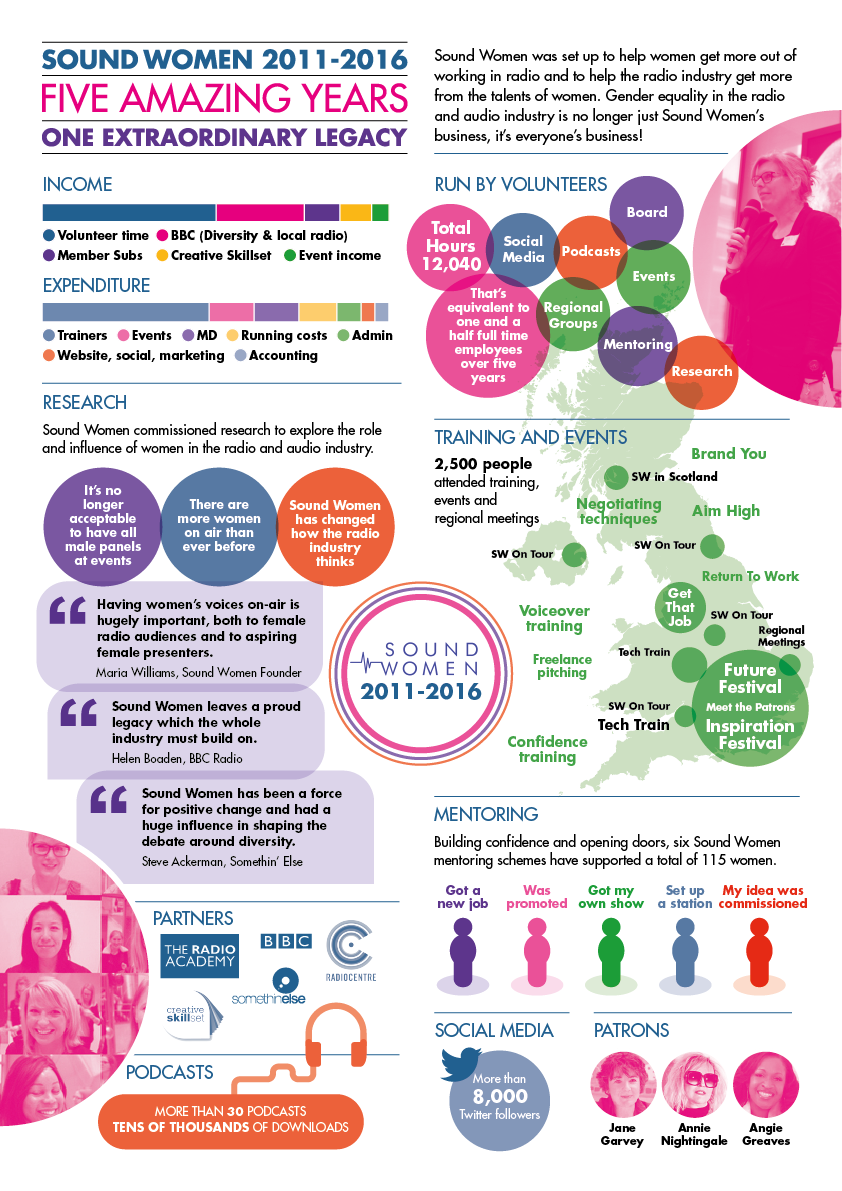 Credit: Sound Women UK